Rich Enterprises, Inc. - How do our programs work?
Strong B2B Appointment Setting Services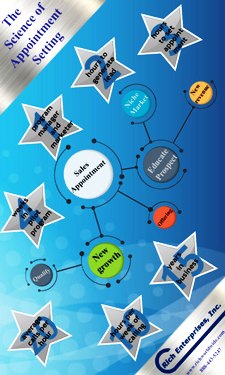 A strong appointment setting program determines whether your business has the needed revenue to survive or sustain company growth. Our services are vital to growing companies - just like yours. Outsourcing your outbound appointment setting campaigns will take your business to the next level.

Appointment setting is the process of contacting your potential customers or sales leads via phone (telemarketing) with the goal of setting a sales or introductory appointment for your sales team. An appointment setting campaign begins with a strategic plan regarding the approach, target market, and qualifiers for new sales appointments. Setting qualified sales appointments is your key to increasing your revenue and business.
Appointment setting ensures that you have a continuous supply of new qualified leads and interested sales appointments. Each appointment will provide you with opportunities to present your product or service to interested prospects and leads. New sales appointments will lead to more sales and revenue for your business.